From Chains to Freedom – Meet Rochanthang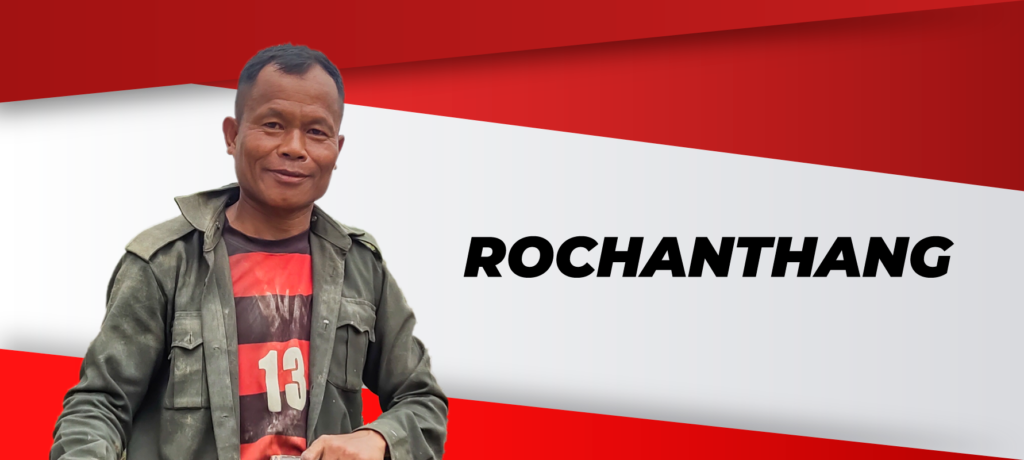 This month we would like you to meet someone who is not a part of the For One Life team. Thanks to recent generous gifts from our supporters, we were able to resume work at the Churachandpur Community Life Center. This gentleman is one of the day laborers currently employed on the project. We would like to share his incredible story with you.
(This story has been translated from the Hmar language and edited for clarity)
"My name is Rochanthang and I am 44 years old. I have a 10 year old daughter, Dereli Lawmnakim. I also had a son who died before his first birthday.
After my son died I was sad and went into severe depression. I started drinking heavily, which destroyed my family. My wife eventually left me, and I started doing drugs. I lived with my elderly parents – who were also suffering because of my habits.
After 7 or 8 years of living like this, I came to my senses. I told my parents to put me in chains. After my repeated requests, they eventually agreed. I was chained in place for 10 years. I didn't leave my parent's house for a decade. (Quick note – Rochanthang does in fact mean that he asked to be tied up with metal chains. This was a very extreme and inhumane way of dealing with his addictions, but it was the only thing he could think of to manage is habits.)
Since I was the main provider for the family we began to face serious financial difficulties. The saddest part was that we had to put my daughter in an orphanage. To say I struggled and suffered would be an understatement. But this is where and how I met Jesus – the healer and hope for humanity. I am proud to say I have been totally healed and clean for 5 years now.
I was able to begin providing again through farming and fishing, both on my own and by providing manual labor for other farmers. I also volunteer for my church in cooking and cleaning. 
The pandemic has been difficult for me like many other people in this area. I couldn't find jobs and struggled to put food on our table. Thankfully the government and local community have been gracious to provide us with food when we needed it most.
When For One Life started this current project of building a caretaker's quarters, I began assisting the masons by moving bricks, mixing cement, and whatever else is required for my new employers. It has been a blessing. Since working at the Community Life Center project, I have been able to provide for my elderly parents. I can also send gifts and visit my daughter often. My wish is for my daughter to feel loved and be happy.
I cannot thank the supporters of For One Life enough! I want them to hear from me that their contributions towards the ministry are impacting lives. I hope and pray that God will continue to bless them."
While Rochanthang's story is certainly an extraordinary one, we see people's lives being impacted all the time, even through the simple act of giving them work to do. When we first announced plans for the Community Life Center project, one of the questions we heard frequently was whether or not we were planning to hire local laborers to do the work. 
When our supporters give towards the Community Life Center, it not only gets us closer to our dreams for the center, it also impacts and blesses people like Rochanthang in ways that we may never know.