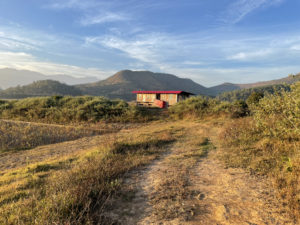 It's a quiet evening as the sun is slowly setting over the mountains. Michael is giving me a tour of the future campus of the Churachandpur Community Life Center (CLC). He takes me down the lane towards the maintenance building, stopping to point out one of the two wells, a 20,000 gallon cistern, the planned locations of the gymnasium and training center. He points out the overhead doors in the maintenance building where several implements are stored, with the recently-acquired dump trailer sitting nearby.
It's a short walk over to the soccer field. Leveling work, retaining walls and drainage were completed several years ago, and there is some underbrush beginning to grow in the gravel. Michael stands on the uphill side of the field, where the stadium will be and talks about the changes that will be coming very soon.
I would love to say that I was there in person. In reality, COVID travel restrictions have been in place from the day I joined the team at FOL, until about 2 weeks ago. The tour that he gave me was actually a video he sent me as he walked the property.

Regardless, it's easy to catch the dream of the Community Life Center as he talks about what building goes where, how there will likely be crowds of 8,000+ people packing out the stadium in the near future, how the quality and size of the field will set it apart from other fields and stadiums in Churachandpur. 
You see, after years of waiting, it looks like the soccer field at the CLC will be operational in just a few short months. A while ago, through seemingly "random" circumstances, Michael formed a relationship with a gentleman who not only represents professional soccer players, but also installs turf at professional soccer stadiums in India and surrounding countries. This year, a generous friend of For One Life, offered us $100,000 in matching funds. As I write this we are well on our way to fully matching those funds by the end of 2021. 
When this happens, construction can begin. There is a lot to do. Turf will be first, followed by perimeter fencing. If funds allow, stadium seating will be next. This quiet piece of land will soon become a gathering place for our community, bringing with it a hustle and bustle of people. 
And with the crowds will come more opportunities to build relationships and foster discipleship. That is why we are here, and that is why we are excited.
We keep you posted as this property is transformed. Stay tuned!