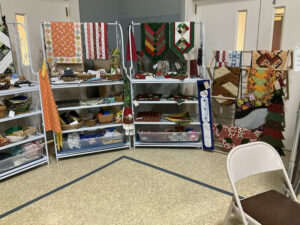 This past week, I met with a group of quilters who were interested in finding an organization to support with a donation. This group of ladies is very active, raising money throughout the year by selling items that they create during their time together each Tuesday morning. They raise thousands of dollars every year and support the church, local charities, etc. Some samples of what they make are in the picture above. Many of these fabric artists are well known to me, but when they asked about For One Life, it was all business. They wanted to know who we are, what we do and why I chose For One Life to be a part of. I was up for the challenge.
I talked about the Kingdom Kids, the Life Cafe, Community Building and Education. They softened when the Widows were discussed, and a few remembered my mentioning on another occasion that ducks were going to be a part of their future. Ears were open when I talked about opportunities and that For One Life was in the business of providing opportunities that will give people a hand up in life. They were into it!
As I write this, I don't know if they will donate, but they now are aware of the work that we are doing in Northeast India. From my point of view, every time I tell a group or an individual about For One Life, it cements in me the desire to help provide those opportunities that can make a difference in lives.
Why are you involved?
Thank you for your donations and your prayers, especially as we are in this season of expressing thanks.